my mom's goin out of town for a week on thursday(fuck yeah) and me and anna will have the place to ourselves...wooo gonna party that shit up....it'll be the last time we can til we start school...then i doubt we'll have any party time at all 8( they said there's gonna be a lot of homework ickyyyy haha
man...halloween flew by....it's sad really...3 days after and the mall already had christmas trees up...wtf...can't we savor our holiday? ugh...all of october was amazing though...everything was so spooky! haha i wish there were more spooky holidays but of course not.. oh well i'll take what i can get... i just hope people keep the holiday alive...seems like it's gonna die out and no one's gonna celebrate it...that'd be a shame...no more buying cool clothes at normal stores
here are a couple pics of my new baby dreads haha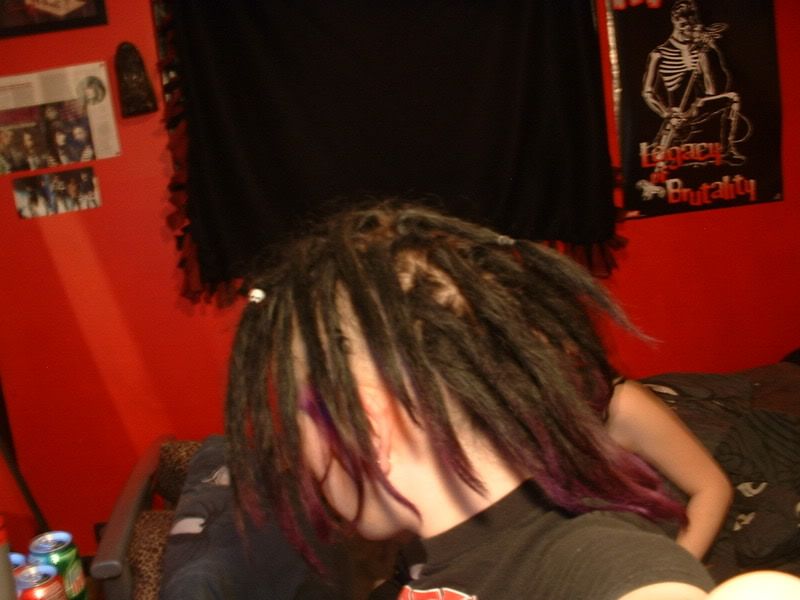 here
i start cosmetology school in 2 weeks and i'm really excited about that....finally people will lay off me with the whole you're a freak and you're not gonna make anything of yourself thing...should be alot of fun too...gonna be goin with m'lady which will definately help 8) i also dreaded my hair about 2 weeks ago...november 1st....my mommys birthday haha...they're lookin good so far, i hope i keep them this time...
just thought it'd been a while since i'd posted anything on here...
we just watched 28 days later again today, i'm pretty excited about the sequal(28 weeks later) it looks pretty interesting...
i've been doin alot of thinking about my hair lately...i can't decide whether to dread it or keep it big... i really want both lol
i can't wait til i'm 18 omg lol...tattoes....modeling....a decent job....haha...oh well only a couple months away 8)
so i hear wednesday is coming out with a dvd i'm pretty fuckin excited about that...lots of hotness on a dvd mmmmmm hahaha
uuhm...
i've been playing redicuous ammounts of dibalo 2 lately lol....i always feel like such a dork when the other people tell me they're like 11 or 12....hah...oh well...met a married guy on there who was 32 the other day so i guess i'm not the only weirdo...
well i guess this is it for now....peace nukka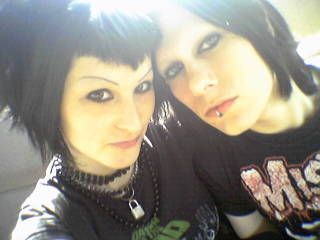 weeeeeeeelll....lets see here.....8 month anniversary with the misses 8)..
Current Mood:

hungry

shit'll be fun....sexin aaaaaaaaaaaaaaaaaalllll the time...and loud sexin too...not that half ass quiet sex....nope...full on porno soundin wild moaning sex 8)

SEXXX
well we got nanners pretty much moved in between last night and today....i think our room is gonna be the sex once it's situated.....man i can't wait to get an appartment wiffs her 8)

MY GOD DAMN BOOTS STILL HAVEN'T GOTTEN HERE!!!


so like....anna and i were gettin ready for sexin today and uh....mommy called me whilest she was goin down on me....that was very...uh....interesting....hahahahah
she was like..."..uhm...am i interupting anything?" 8) noooooo teehee
soo it's thursday....fourth day of house sitting.....weee heh....three more days...can't wait to go home lol although the privacy is nice....anna's parents are so lucky to be in hawii loloh well...i think i've lost some weight here...which is odd...i've been surviving off a lot of junk food lol and shitloads of coke... >.< haha mmmmm coke...
haha...so i didn't sleep for shit last night...man i want that futon.....lol
me and nanners got new pics at the store! weee
yeah...because we rock lol...i think i look like acey in that last pic 8) lol
oie...so we have a photoshoot with this college student that's most likely wednesday, i'm excited about that...should be fun stuff...hmm..only a couple weeks tik i get my lisence back too...sucks not having it....have to be extra careful driving haha
uhhhhhh....yeah...prolly be back on later...
<3
we have coffee and no coffee machine!!!! we rock!!!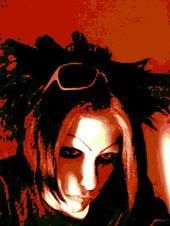 well i'm quite bored and i wanna eat!! haha but no...must lose weight damnit haha well erm...i found an old pic so i'll put it up 8)

<3jiffy1313
well yeah....no one actually put shit in my pants but i figured you know...i'm sweet like that...anywho...weeeeeee i'm here..you know what's amazing? anna's bod...mmmmmmmm...lol ok well this is good enough for a first entry....love me lots
Current Mood:

naughty